Healthy Over Hungry Cereal Drive June 2 – 9, 2017
"At USPI, we are proud to be part of the Tenet Healthcare family and are pleased that we can participate in our company-wide Healthy Over Hungry® Cereal Drive to help those struggling with hunger in our communities and to promote the importance of eating a healthy breakfast. The Cereal Drive compliments our mission — to care for every patient and their family as if they were our own — in a way that is essential to the health of our communities. We look forward to another successful year making a difference in the lives of those we serve."
—Kyle Burtnett and Ann Shimek (USPI Executive Champions)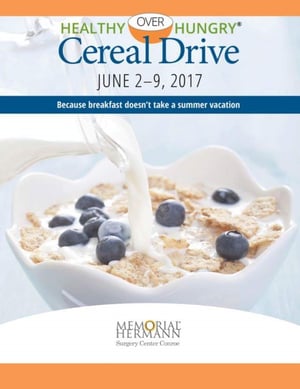 9/29/2016
Conroe Surgery Center (CSC) is proud to announce their Joint Venture with Memorial Hermann The Woodlands Hospital (MHTWH). CSC is expected to change their DBA to Memorial Hermann Surgery Center Conroe to take advantage of the Memorial Hermann Brand.
3/23/2015
Conroe, Texas- Ophthalmic surgeons at Conroe Surgery Center have acquired the LenSx Femtosecond laser which provides a blade free form of cataract surgery. Femtosecond cataract surgery is a new technique that is revolutionizing one of the most common procedures performed today.
The LenSx cataract procedure offers a reproducible non-invasive technique to replace some of the most demanding and least predictable steps in cataract surgery. The surgeon directed laser is able to place laser pulses precisely time after time. Laser assisted cataract surgery makes correction of astigmatism now possible with a more precise and predictable laser-guarded application.
Conroe Surgery Center is the first facility in the northern Houston metro area to acquire femtosecond technology, travel to the medical center will no longer be necessary. Indeed, surgeons at Conroe Surgery Center will be among the top 15% of surgeons in the entire United States to offer patients the safety, precision and accuracy of laser assisted cataract surgery.
Cataract development is simply part of the aging process and everyone will develop cataracts if they live long enough. The normal clear aspect of the lens becomes cloudy and no longer allows light to pass through thus decreasing vision. The only method to treat cataracts is to remove it and replace with an intraocular lens. In the United States along over two million cataract procedures are performed per year.
Please contact the surgery center at 936-760-3443 for further information.